Celebrating the year of our Water Rights through, dance, music and art.
Mul-Chu-Tha Contact
Questions?
Email:
Phone:
P: 520-562-6176
Finish the Footrace - Results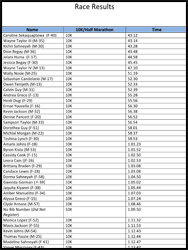 Click here for PDF.
Mul-Chu-Tha History
MCT was established in 1962, as a fundraising effort to build a swimming pool for the community. Members of the community participated in activities such as foot races, a wood chopping contest, a small carnival and a fashion show featuring clothing made by community members.